Care Instructions
Coatings generally take between
24 - 48 hours to dry
, but they will take approximately
7 - 14days to fully harden
. It is important to follow these guidelines:
When necessary you can walk on the floor in stocking feet after 24 hours (or depending on advice from tradesmen).
Avoid walking on the surface with street shoes for 7 days.
90% of the curing takes place after 24hours, but care should be taken for the first 2 weeks until the floor has fully hardened.
Light furniture can be replaced in this time - use protective felt pads, and avoid dragging furniture as it may scratch the surface.
Heavy items such as fridges should be moved careful ensuring they are not dragged over new floors.
Wait 2 weeks before laying rugs.
Maintenance
General information for all finishes
Use Mats
Shoes carry sand, grit and small stones which will abrade the floor surface in the same way that sandpaper does. Place mats at entrances and where possible place a mat on the inside as well as outside. Use runners and rugs in high traffic areas.
Direct Sunlight
Like any quality furnishings or floor covering in your home, direct sunlight will cause discolouring over time. To avoid fading and discolouring, filter direct sunlight with curtains or blinds.
Maintenance plan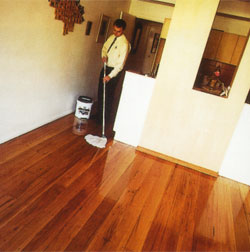 The most important thing you can do to keep your floor looking like new is to establish a regular maintenance/cleaning program. Just how regularly you need to maintain/clean the floor is totally dependent on the environment the floor is in. Factors such as the level of traffic, the degree of grit carried onto the floor, pets and children, the condition of the immediate outside area, etc... all have significant influence on the wear of the floor.
Daily/weekly
Use an anti-static dust mop to collect dust and dirt. Note some people use a vacuum cleaner, generally we recommend against vacuum cleaners because often the brushes on the vacuum head wear thin and the floor is scratched by the metal.
PERIODIC RECOATING
Following a regular maintenance program will preserve the life of your hardwood floor for years. A hardwood floor should be recoated when the original finish is showing signs of wear but before it has worn down to the bare wood. Bare wood will be stained by dirt and grime and will need to be re-sanded.