Maintenance Products
You may have a flooring project coming up with
Amaze
or already have polished floors. We always advise our customers of their maintenance obligations to keep there floor looking well, up-to-scratch!
Our maintenance products not only help you clean your floor but bring them back to life when wear and tear are apparent (or recoating is not an option).
Please contact our staff to receive advice on which maintenance program will suit your floor. Customers will receive full written instructions with all purchases and products can be delivered to your door!
For Oiled floors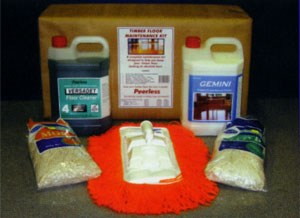 For floors sealed with Tung oil or Oil modified products it is recommended these floors be maintained on a regular basis.
A
peerless start-up kit
is essential and provides the following:
1 x 5ltr Gemini Sealer Finish (gloss or satin)
1 x 5ltr Versadet concentrated cleaner
1 Premium Grade Mop Head No.20 (for Gemini application).
1 Dust control mop 35cm (Electrostatic)
1 Standard Mop Head no.24 (for use with Versadet)
1 Extendable Universal handle
COST: $155 incl GST
Gemini Sealer Finish only (gloss or satin)
5ltr - $66.00 incl GST
25ltr - $275.00 incl GST
Versadet concentrated cleaner
5ltr - $33.00 incl GST
25ltr - $144.00 incl GST
For Polyurethane floors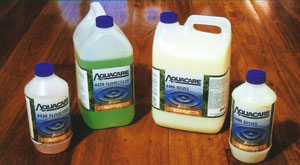 The following maintenance products are available:
4420 Floor clean
1lt - $11.00 incl GST
5ltr - $44.00 incl GST
4400 Revive
1lt - $15.50 incl GST
5ltr - $55.00 incl GST (gloss sheen only)
Delivery charges apply (maximum cost $10 Sydney Metro). Outside areas cost is dependent on location.
Email now
to purchase C.O.D. or EFT