Staining & Polishing
Dare to be different?
Looking for an ultra modern or an aged look?
Staining is the word.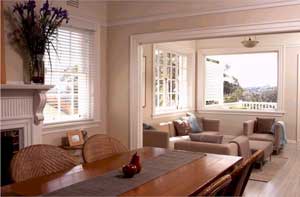 With over ten base colours to choose from
Amaze floors
can help you get the look you want. Our tradesmen can also give you a truly original colour by mixing various to have your own masterpiece. Dreaming of Jarrah floors, though the existing is Cypress... The word is out there,
STAIN
If you are looking for a beautiful light coloured floor though re flooring with Aust beech or Blackbutt select is not an option try liming. Excellent for dark homes or, the beach house or antique look.
Amaze Floors
are well renowned for stains and liming within the industry. We generally apply stains or liming directly to the timber to achieve maximum results. This is not the easy option as it takes much skill and experience to perform this task. Only our head tradesman himself tackles all of our staining and liming projects.
Staining generally adds an extra day to your flooring project. The stain or liming solution takes place of the traditional sealer.
Some tips when staining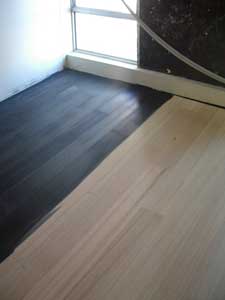 Make sure you are present to choose your colour. Colours vary on different timbers and depending on your timber's condition, the colour you have chosen can look quite different on your floor.
When colour is demonstrated also inspect with lights on and off to ensure colour is to your liking as under light or in strong sunlight the colour will appear different.
If you do not receive much light in your home choose colours carefully as to not go too dark. Dark colours can also give the appearance of the area being smaller.
Leave painting of your skirting boards till after your flooring project. While applying the stain the tradesman will most likely paint stain on the skirtings in the attempt to get to the edge of the timber.
Some tips when liming
Liming your floors is a beautiful alternative to traditional staining and finishing. It is important to remember that liming is like a whitewash, your timber with all its characteristics will still be apparent.
Liming will not lighten knots within the timber such as with species like Cypress Pine. The knots will still be very apparent. Liming does not give a continuous colour tone, as generally timber is not the one tone.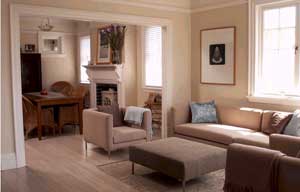 Liming won't necessarily give you a 'white floor'. For example 'Liming white' applied onto cypress pine gives you tones of greys, pinks, light browns and creams depending on the timber. To achieve a whiter look you would need extra coats of liming, though the timber's character and knots will always be apparent.
After the liming has been applied, the coating (waterbase recommended due to non-yellowing) will slightly change the look of the liming. This may be important when deciding whether to apply another coat of liming or not.
Also see
tips for Staining
for additional information.